Quad Recording Studios NYC stands as a legendary beacon of creativity and innovation in the heart of Manhattan. Since its establishment in the early 1970s, this iconic music production facility has played a pivotal role in shaping the musical landscape, attracting a diverse array of artists, producers, and musicians from around the world. During the golden era of hip-hop, Quad Studios rose to prominence, becoming a magnet for top-tier acts and iconic artists seeking its cutting-edge equipment and expert engineering. Its acoustically treated rooms provided the perfect canvas for artists to craft their sonic visions, resulting in a plethora of Grammy-winning records and chart-topping hits. Beyond its musical contributions, Quad Studios NYC carries a profound legacy of resilience. Despite facing challenges, such as the infamous 1994 shooting incident involving Tupac Shakur, the studio persevered and became a sanctuary for artistic expression. As a bastion of New York City's musical heritage, Quad Recording Studios NYC remains an enduring symbol of the power of music, a place where extraordinary talent comes to life and leaves an indelible mark on the world's musical tapestry.
We met with Quad owners, Ricky Hosn and Alessio Casalini, demonstrated Auto-Align 2, and spoke with Alessio about his experience in the industry.
Please tell us about your experience in the music recording industry and how you became involved with managing recording studios.
I started in the music business as a musician and I still make music under my name Alessio Casalini as a solo project and with my band BARK. When I moved to the US in 2009, I was already very involved in the engineering aspect of music. After I started working at Quad as an assistant engineer and tech, the opportunity to become a partner came up in 2012 and I took it.
What qualities and skills do you believe are essential for a successful music recording studio owner/manager?
As a studio owner, you have to know every angle of the business. It's a small industry, recording studios are usually pretty small companies and the more you know the better you will manage. From knowing technical stuff, like wiring, equipment, and computers to booking and running sessions. Being a musician, engineer, and technician myself was incredibly helpful in the process.
How do you ensure that the studio operates efficiently and meets client expectations?
I believe maintenance of the facility and client service are the two most important things. The equipment has to be in perfect working condition at all times, cleaned, and maintained as well as computers and software have to be up to date and in line with the current trends. Client service is another crucial point, artists who come for sessions want to have a great time, be inspired, and be productive. At Quad, we do everything we can to make sure they have the best experience.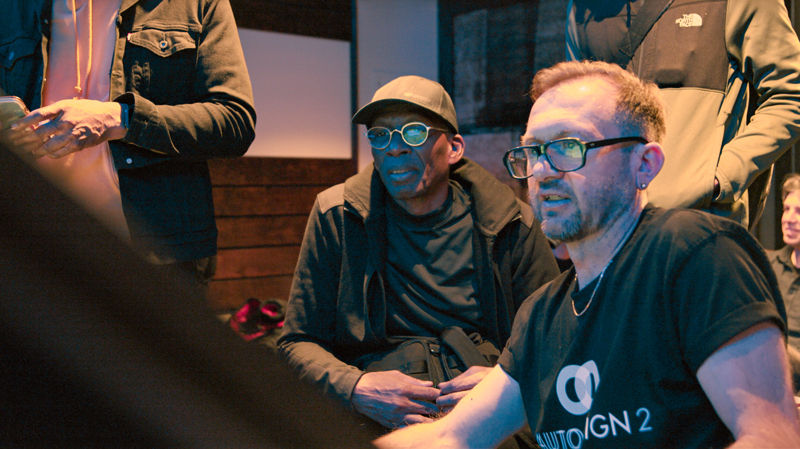 Hank Shocklee and Nir Averbuch at Quad NYC, Studio Q5
Can you describe your approach to managing a team of recording engineers, producers, and other staff members and fostering a collaborative working environment?
All Quad engineers and producers started with the company as interns and eventually got promoted to that position. We don't hire outside engineers. This assures that the engineer is very familiar with the facility, knows the different aspects of the studio work, and creates a strong bond with other colleagues. We strongly believe personality plays a huge role in an engineering career and being able to work in a friendly and professional environment is key to success.
Eryck Bry, Nir Averbuch and Josh Giunta at Quad NYC, Studio Q5
How do you stay updated with the latest trends and technologies in music production and recording?
You have to have a passion for it. I definitely have a "nerdy" side for these things. I love learning about new technology in music which could vary from plugins, software, guitar pedals, instruments, outboard gear, etc.
I spend a long time researching new recording and mixing techniques and I end up applying all this knowledge to my music and to Quad.
What strategies do you employ to attract and retain talented musicians, artists, and clients to your studio?
We don't really do much advertisement other than some social media posts. People know Quad as an historic studio and they want to come here to work on their music.
How did you first hear about Sound Radix?
It was many years ago, I don't remember exactly but I had recorded drums for a few tracks with my band, and I was looking for something to improve the overall sound. Somehow I stumbled upon Auto Align and I've been using it since. Over the years I experimented on different instruments and always loved the results. It's a very handy plugin for me and really helps you improve your recording techniques. I'm still experimenting with the other plugins in your bundle.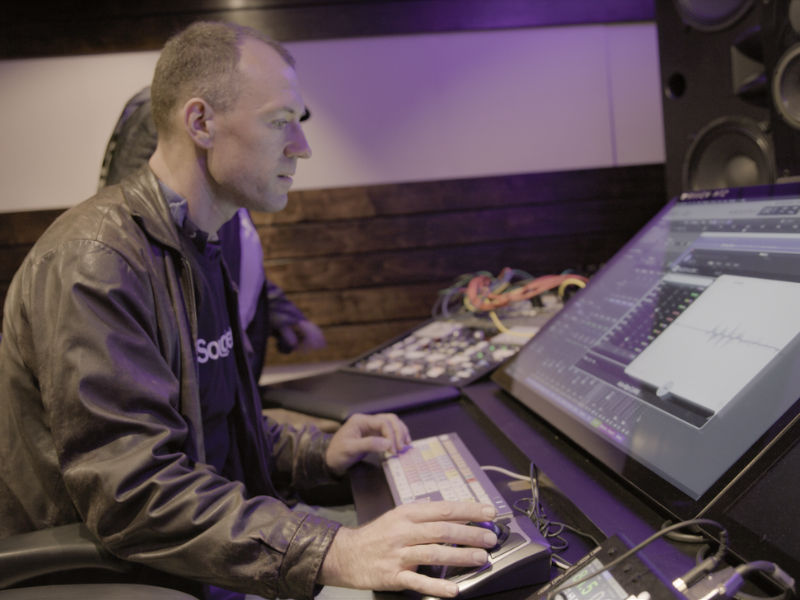 Cooper Anderson at Quad NYC, Studio Q5
What are your future goals and aspirations for Quad?
2023 has been a challenging year so far. I think we are in a phase of change in the music business. Feels like the whole system is re-adjusting, it's pretty unpredictable right now so it's hard to tell but after our recent expansion we definitely have enough studios to take care of at the moment.
We'd love to hear some wild studio stories like extreme requests by talents, unusual sessions, and other challenges.
A very interesting session we had a few years ago was with Andrew Lloyd Webber. He was directing a full orchestra recording at Abbey Road in the UK from Quad! You can imagine the pressure of that situation. We had to have video and audio feed without lag to ensure a smooth session and no room for error given the caliber of the musicians.


Connect with Quad Studios
https://www.quadnyc.com/
https://www.instagram.com/quadstudiosnyc/
https://www.facebook.com/QuadStudiosNYC
Just to let you know, we use third-party cookies to track site traffic. By using our site we assume you don't mind.
Privacy policy